The Literacy Circle provides opportunity for Indigenous elders and adults to learn English literacy skills through storytelling in a supportive, safe and self-paced environment.
CTV National News:
Extended interview with Florence Marshall
"It was only a dream to come up here, now look at me, I'm in class, and I'm proud," Marshall said. "I love it. They treat us so good."   Florence Marshall, one of the Elders participating in the new literacy program, told CTV News.
-November, 2021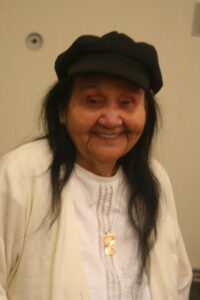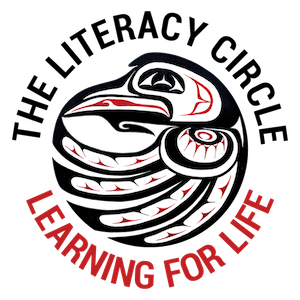 Discussions to create opportunities for literacy learning began in 2019 and the Pilot Project opened in Oct. 2021.   The Literacy Circle was officially registered in May 2022 and is expected to flourish and grow.
The Literacy Circle Society (formerly FEATHERS) in the Media
"I'm learning so I can be an example to other survivors out there.  Never too old to go back to school and learn."  Florence Marshall, Learner.  April 20, 2022
"The students are amazing.  They are incredibly brave and courageous to be coming back into a classroom after what they experienced."  Mary Desprez, FEATHERS board member.  April 20, 2022
"So this is kind of a bonus for me, to learn how to read and write at my old age.  And to meet these beautiful people." Yvonne Frenchie, Learner. April 20, 2022
"I can feel warmth, the welcome, the love…I'm not so much afraid.  I'm trusting people."   April 20, 2022
"Wherever we can do it, we'll be able to do it," said Chuck Loëwen, General Manager of Vancouver Island Conference Centre.
Founding Board Members and their territories
Mary Desprez                     
Laurie Harding           
Yvonne  Rigsby-Jones 
Doug Savory                       
Kate Wallace
Ally from Stz'uminus Territory
Ally from Quw'utsun Territory
Sunueymuwx First Nation
Ally from Stz'uminus Territory
Ally from Lekwungen Territory
Board of Directors and their territories
Jacquie Adams             
Laurie Harding           
Yvonne  Rigsby-Jones 
Doug Savory                       
Logan Swain                                
Dr. Cheryl Ward               
Ahousaht and Ehattesaht First Nations
Ally from Quw'utsun Territory
Sunueymuwx First Nation
Ally from Stz'uminus Territory
Métis from Cowichan Valley
Namgis First Nation  
Mary Desprez, Fundraiser and Administrator.  Ally from Stz'uminus Territory
Kate Wallace, Operations Manager. Ally from Lekwungen Territory
Maureen Robinson, Education Advisor.  Ally from Stz'uminus Territory